Prepare to be captivated by Erica's exquisite eye for design and chic style, as she unveils the luxurious en suite master bath at 419 Broadway Terrace in Somerville. Each detail in this stunning bathroom creates a serene getaway within your own home. With clean and bright aesthetics, complemented by gold accents and faucets, the floating custom vanity stands out as a mesmerizing centerpiece.
Explore the design elements that elevate this bathroom to new heights of sophistication and contemporary flair.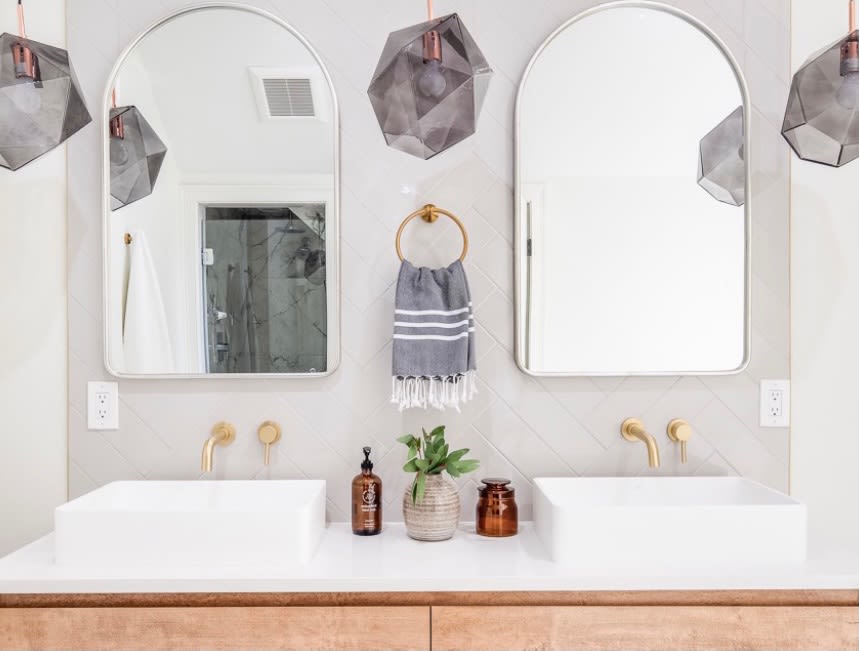 Step into a world of chicness and sophistication with the exquisite design elements found in this stunning master bath. A chic tile wall behind the countertops enhances the clean and bright ambiance, while side-by-side silver accent mirrors create a cohesive and stylish look. Grey geometric light fixtures add a modern touch, beautifully complemented by a matching hand towel, elevating the overall aesthetic. A simplistic decorative plant adds the perfect finishing touch, making this bathroom feel complete and inviting. Delve into the elements that make this master bath a true sanctuary of elegance.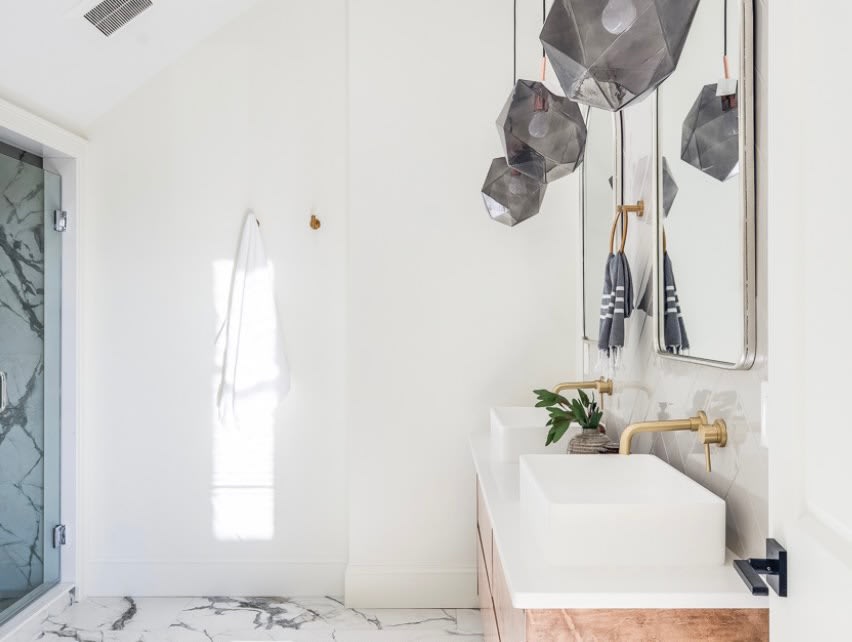 To finish off the bathroom, the flooring and walk-in shower enhance the look with magnificent floor-to-ceiling tile design. The flooring only enhances the space and ties together the look.
This en suite bathroom creates a contemporary, clean look that makes this master bath one of our favorite parts of this home. The whole of the master bathroom is flawless in every way. From the gold accents, white countertops, flooring and grey light fixtures, this space is yet another stunning Design By Erica.
Interested in getting the look? Below are some items similar to those used to design and stage this incredible master bathroom.
Geometric Light Fixtures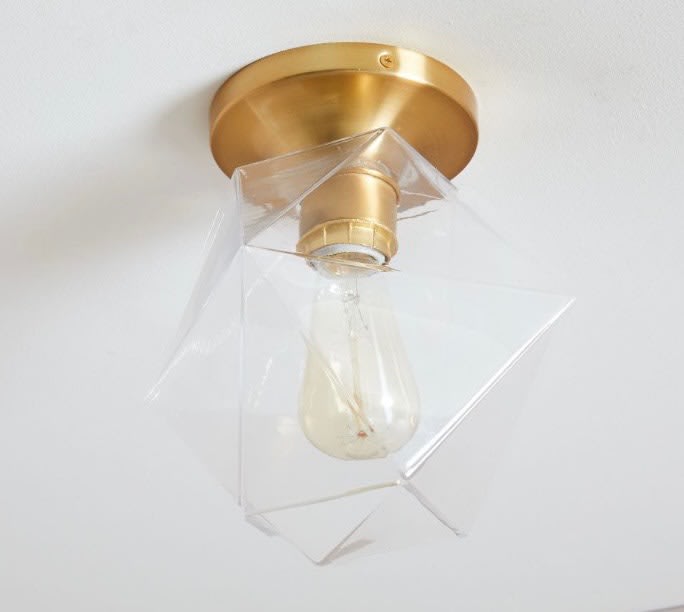 We love these light fixtures! They are so elegant and chic!
Silver Accent Mirror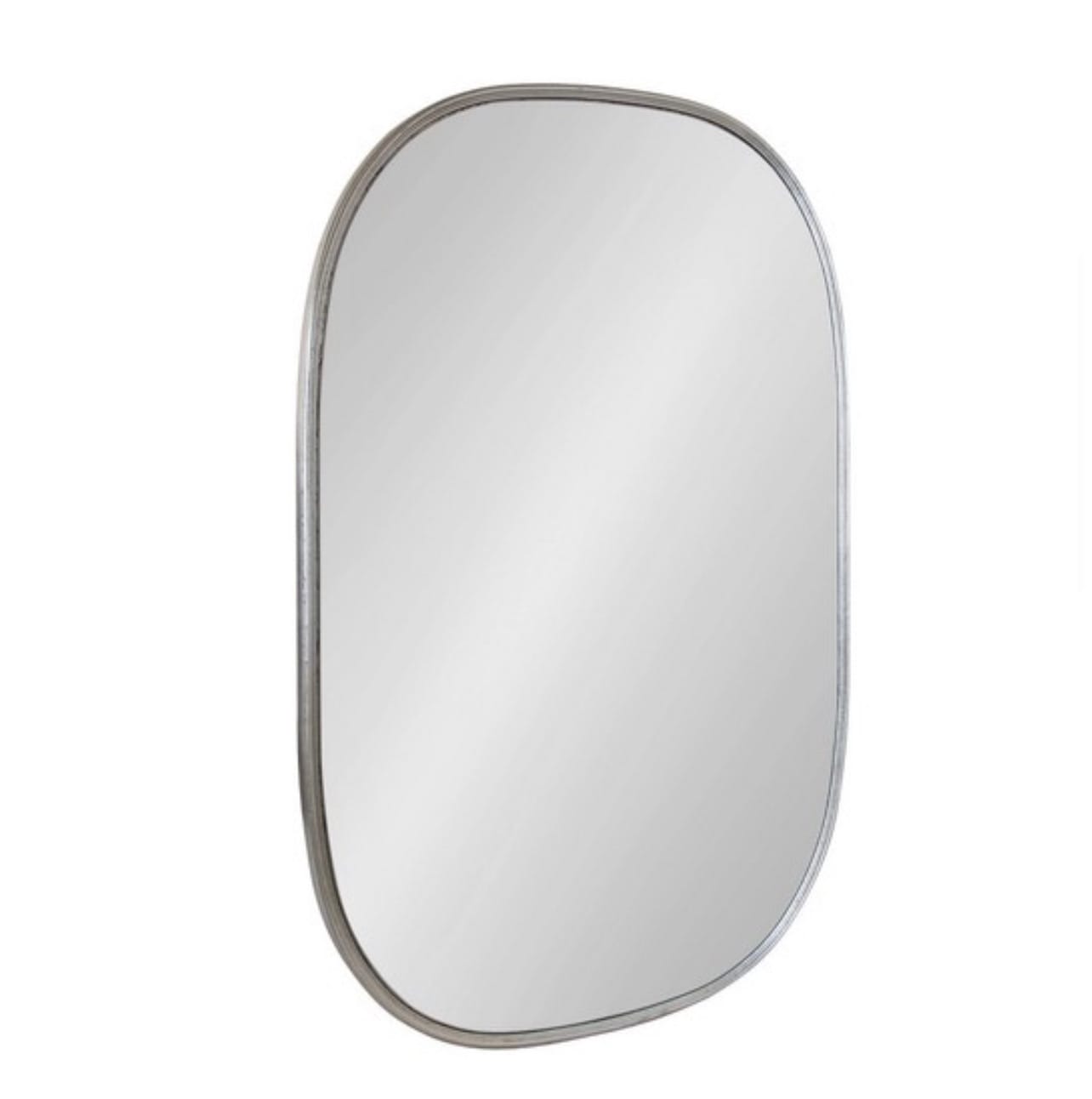 This is such a simple, yet sleek mirror that makes any bathroom stunning!
Wall Mounted Faucets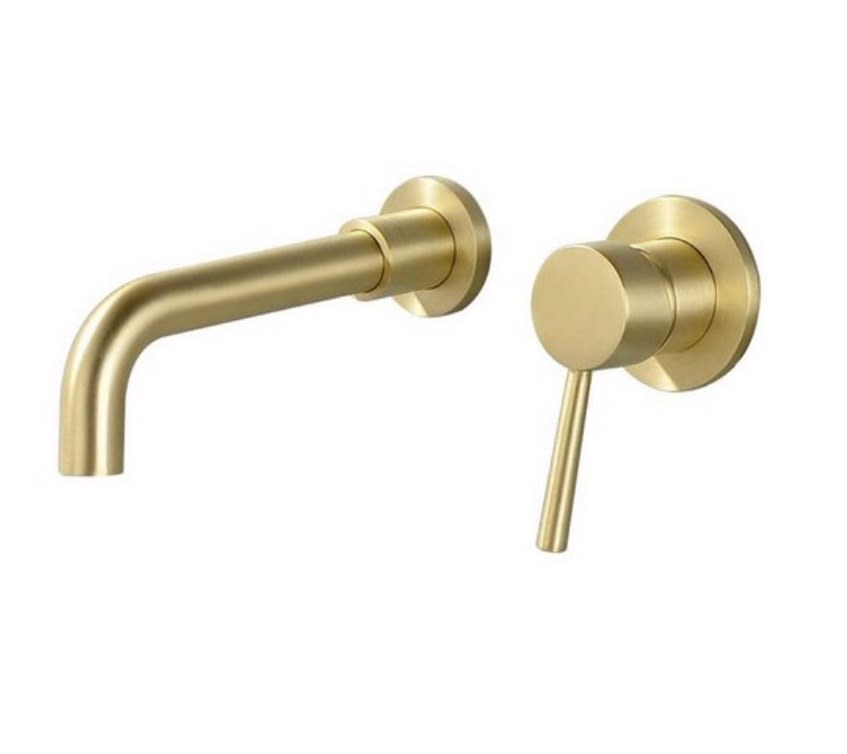 This gold faucet is a nice addition to spice up any bathroom!
Vessel Sink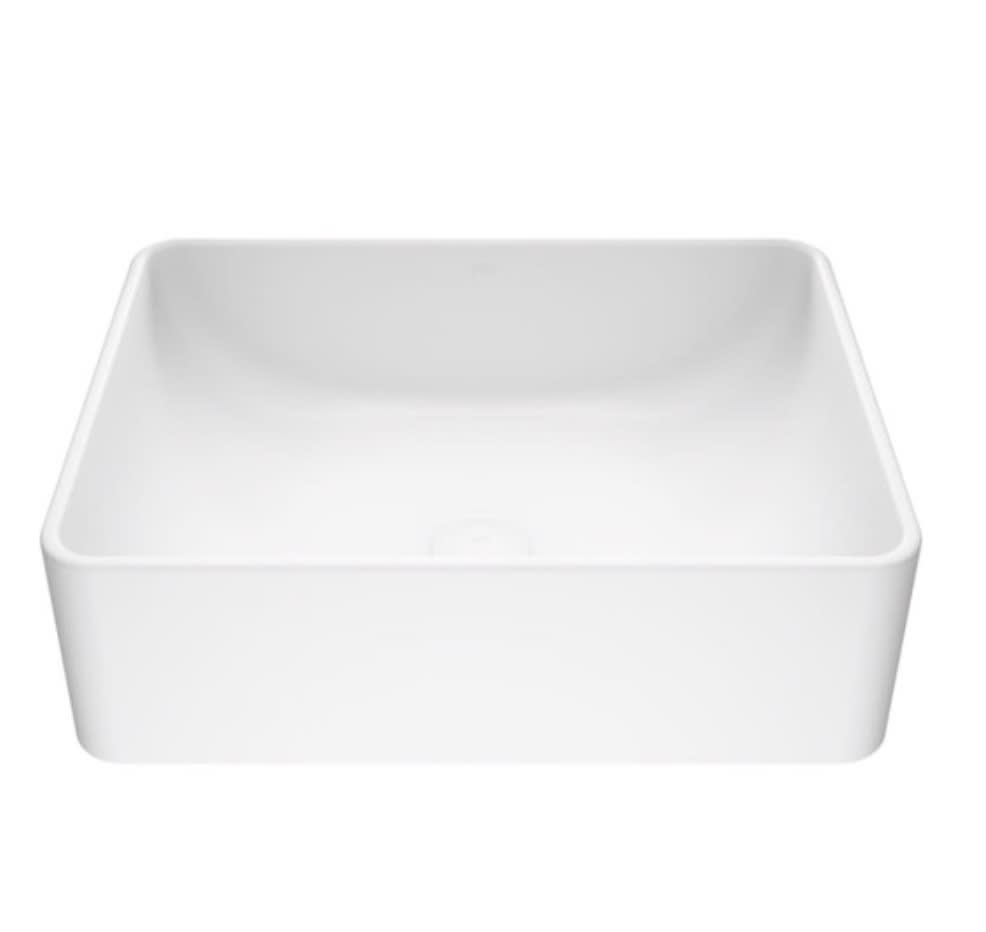 This white vessel sink can add a unique element to any home!
Modern Double Bathroom Vanity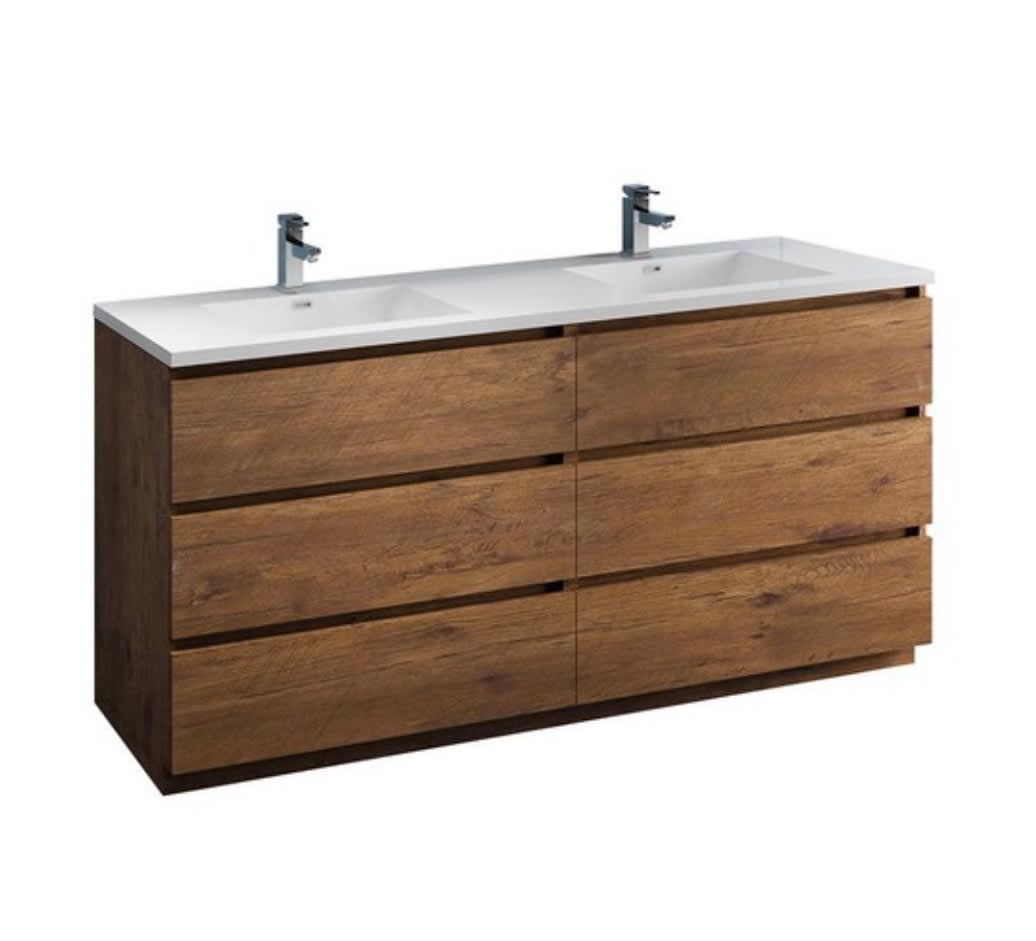 This spacious vanity provides style and comfort to any master bath!
Stripe Hand Towels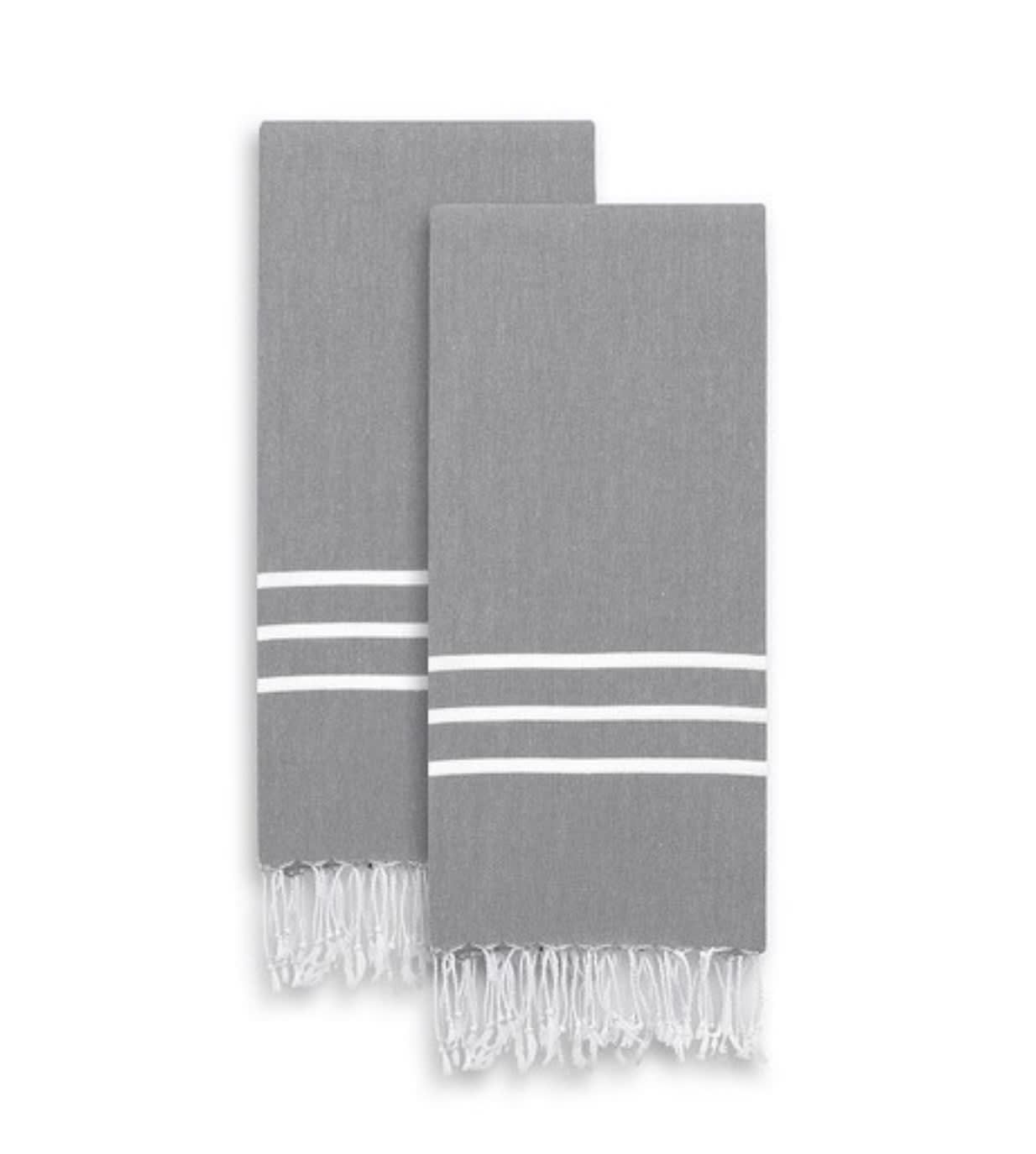 These are such cute hand towels, that would look gorgeous in any bathroom!
Small Plant Decor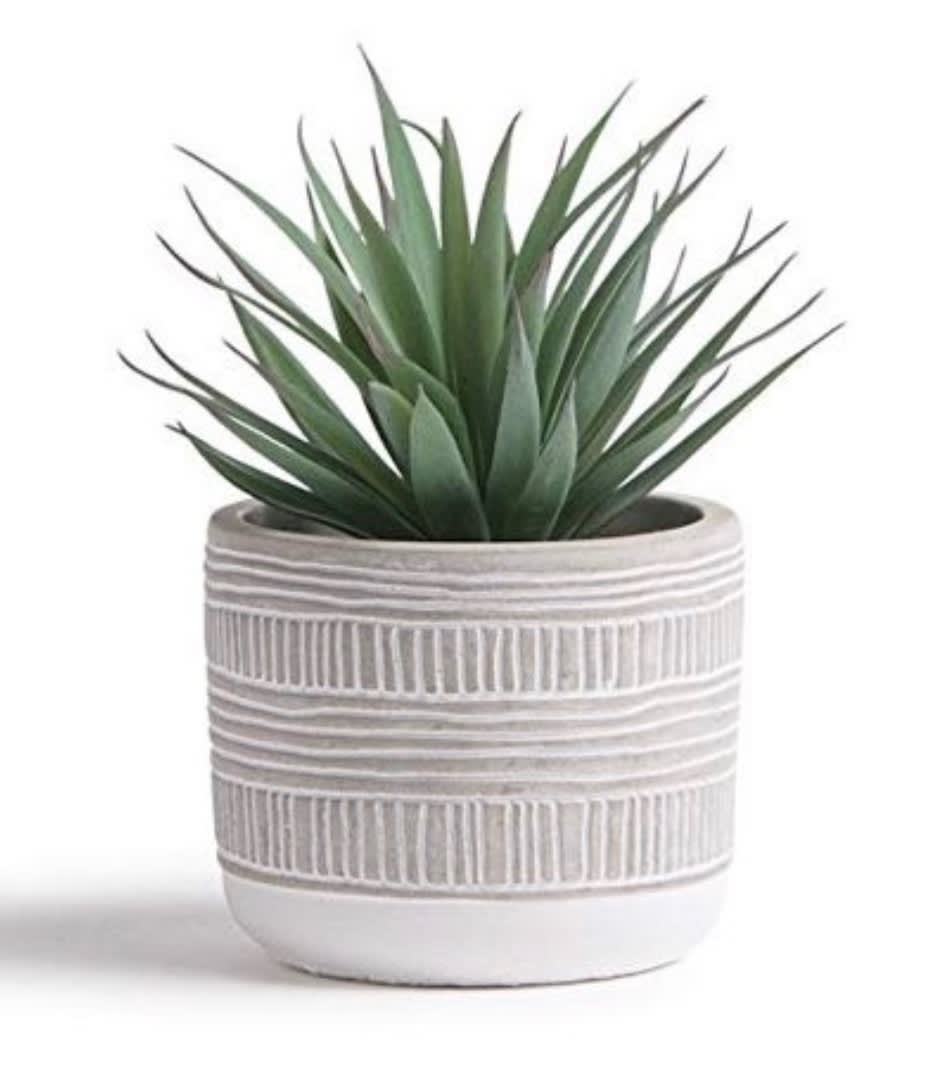 Everyone can use a good plant!
"Designs by Erica," part of Covelle & Company, helps clients transform their spaces into homes. Her soul mission is to evoke emotion and create demand. Erica's attention to detail and style elevates appeal, assisting sellers and developers to sell more quickly and for more money. We would be remiss if we didn't mention that this incredible renovation was made possible by collaborating with Lavelle Development. This fantastic company specializes in building and remodeling homes in the Greater Boston area. Keep an eye out for more collaborative projects from Covelle & Co. & Lavelle Development. A perfect match of design & development.
Looking for some inspiration? Loving these designs? Take a look at our
Pinterest
&
Instagram
accounts to get you kick-started on your own project!
Contact us today

to hear more about our top agents offering exclusive white-glove and design services!