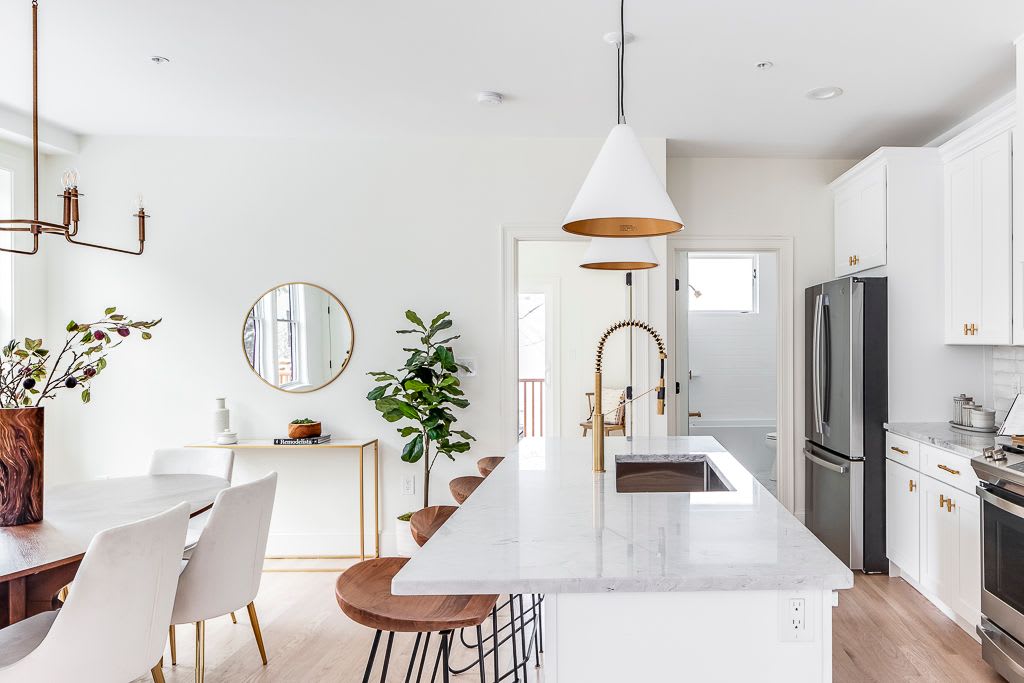 Buying a home for the first time is so exciting but can also be intimidating and stressful at the same time. There are so many things we feel we need to learn about becoming a homeowner before making one of the biggest financial investments of our lives. It turns out there are actually a lot of wonderful benefits that come with buying a home. We wanted to share some helpful things to know when considering buying your very first home based on frequently asked questions from actual first-time homebuyers.
Determining if You're Ready
The first thing first-time homebuyers consider when thinking about buying a home is if they are really ready for this next step in life. In order to determine if you're ready to become a homeowner you must consider the following: Have you been saving? Are you ready to settle down in a specific location? How is your credit score? Are you ready to keep-up with a home? Is your job secure? What are you looking for in a home? If you are considering these questions, then it is likely you are ready to purchase your first home. Having a savings and a secure job is incredibly important in order to come-up with a down payment on a home and be able to fulfill this long-term commitment. And, having good credit is important in order to get pre-approved for a mortgage. Not only do you need to be financially ready, but you also need to be emotionally ready. Buying your first home is a big change and responsibility. The process can be overwhelming which is why being emotionally prepared is so important.
Buying vs. Renting
One of the most frequently asked questions by first-time homebuyers is the difference between buying and renting. Well, there is a big difference, and there are many benefits that come along with buying and owning a home rather than renting. The first being that buying a home is a long-term investment. When you buy a home with a 30-year mortgage, you are making monthly payments to eventually own a home. Since most mortgage rates are fixed, that means you are paying the same amount monthly and ultimately avoiding the increasing costs of monthly rent payments. As time goes on, the value of the property increases and the homeowner builds equity. Those are just a few of the many benefits of buying your first home.
Getting Pre-Approved
Before even looking at homes, it is important to get pre-approved for a loan in order to know exactly what you can afford. This pre-approval can keep you on the right track while looking for homes and also avoid the possibility of looking at homes that are simply outside your price point. Pre-approved is based on financial information such as income, assets, proof of employment, and credit score. Homebuyers with higher credit scores get lower interest rates, and homebuyers with lower credit scores get higher interest rates. Overall, getting pre-approved before looking for a home will relieve stress for first-time homebuyers, creating a more seamless experience.
Mortgage Options
Did you know that 9 out of 10 home buyers choose a 30-year fixed-rate mortgage? Although there are so many financing options out there when it comes to buying a home, the 30-year fixed-rate mortgage is great for first-time buyers. Not only does it give you 30-years to pay off your mortgage, but the payments actually end up being lower. This allows more people to qualify for this loan. It also offers predictability since the payments are fixed meaning they will not change. Although the 30-year fixed-rate mortgage tends to be more popular among home buyers, the 15-year also has many benefits. The first being, you will be a homeowner in 15 years rather than 30. This means less time spent with monthly mortgage payments, less interest, and the ability to build home equity faster. Both the 30-year and 15-year mortgages are great options, but it all comes down to how much you can afford for monthly payments, as a 15-year fixed-rate mortgage requires higher monthly payments. When looking for the financing option for you, it is important to do your homework and be aware of how much you can afford before making a decision.
Finding a Realtor
Many first-time home buyers wonder if getting a realtor is really necessary when buying a home. The answer is, YES! Although you technically
can
buy a home without a realtor, having a realtor makes the experience so much easier for you as a buyer. First, realtors have the experience that you as a buyer do not. They know the ins and outs of the business and ultimately how to negotiate the best deals. Rather than playing a guessing game causing additional stress as a buyer, having a realtor gives you someone to lean on and trust through the process. Realtors have a lot of connections, as well as expertise in all areas such as properties, locations, negotiation, and the language of real estate. Realtors will not just help you find your first home, they will guide you and support you through the entirety of the process.
So, if the time is right, buying your first home could be the right move for you! There is so much to take into consideration when making this huge decision. It is important to do your homework when thinking about buying your very first home. Collecting as much knowledge as possible before diving into the process will only help to create a more seamless experience for yourself. Hopefully, these tips helped you jumpstart the process of finding your dream home.