We are excited to unveil our most recent project—a breathtaking bathroom makeover that exemplifies luxury and functionality. This transformation, spearheaded by #DesignsByErica, is a testament to what can be achieved with a keen eye for detail and a commitment to quality. This bathroom renovation has everything from the perfect color palette to architectural nuances. Read on to discover the elements that make this space so special.
The Ideal Color Palette: Dusty Ranch Brown by Benjamin Moore
The color scheme is one of the most crucial aspects of any interior design project. For this bathroom, we took inspiration from the existing slate tile, which served as a beautiful canvas for our new wall color. We chose "Dusty Ranch Brown" by Benjamin Moore, a near-neutral shade that instantly elevates the room's aesthetic. This color complements the slate tile and adds a touch of sophistication to the space.
Architectural Details: Elevating Ceilings with Board and Batten
A room's architecture can significantly impact its overall feel. In this bathroom, we employed a board and batten detail on the walls to draw the eye upward, creating an illusion of higher ceilings. This simple yet effective technique adds a sense of grandeur and spaciousness to the room, making it feel more open and inviting.
Vanity Goals: Rustic Elegance Meets Functionality
The vanity is the focal point of any bathroom; in this case, it's nothing short of a showstopper. The rustic design features a soapstone top harmonizing beautifully with the slate tile, offering aesthetic appeal and durability. The vanity serves as a functional element and a piece of art that enhances the room's overall design.
Lighting and Accents: The Finishing Touches
No renovation is complete without the perfect lighting and accents. For this bathroom, we opted for classic black torchieres that provide optimal lighting for daily tasks while adding a dramatic flair. To complete the look, we included an elegant gilded bamboo vanity mirror, adding a touch of grace and luxury to the space.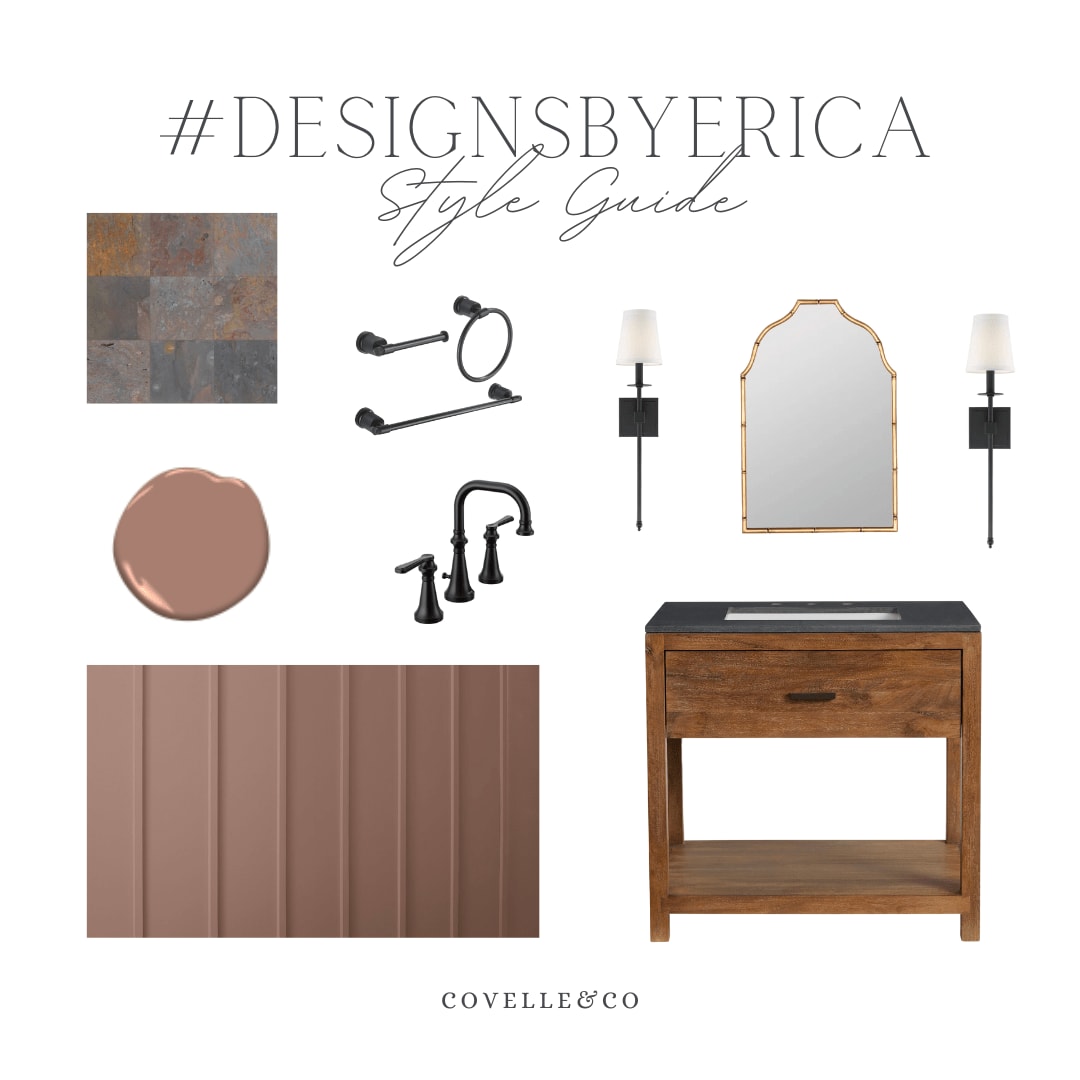 This bathroom renovation by #DesignsByErica perfectly blends luxury and functionality, featuring a well-thought-out color scheme, architectural details, and finishing touches. It's a space that serves its practical purpose and offers a sanctuary of comfort and style.