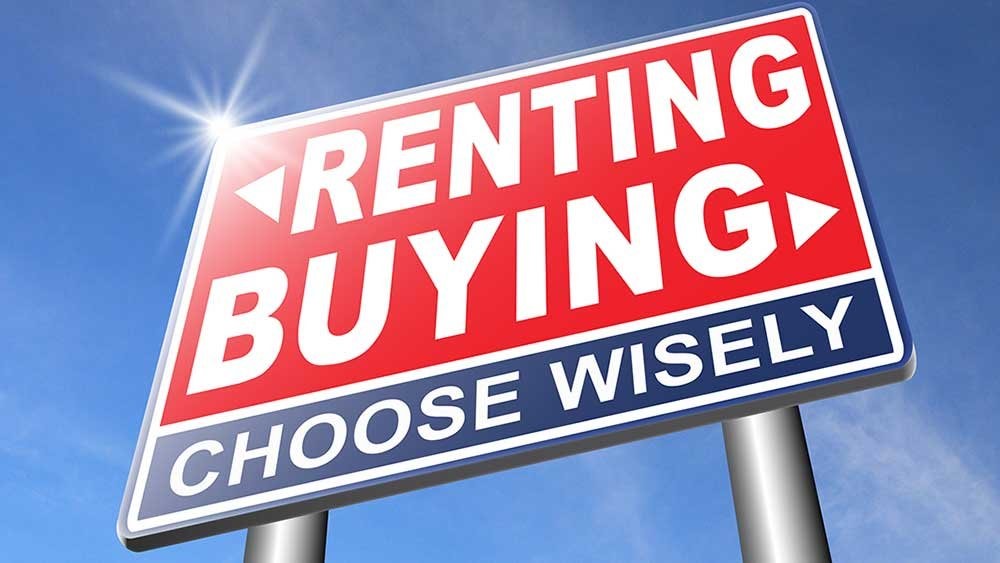 "Many people believe that renting is less expensive than owning a house. But it turns out it's actually cheaper to pay a monthly mortgage than rent in 42 states. Renting is a better bargain financially in just eight states plus the District of Columbia, according to the personal finance website GOBankingRates.com.
Check out a state-by-state comparison below. It's fun to see which is cheaper in your state. It's even more fun to learn some tips for reducing your home purchase costs.
One reason homeownership is competitive is because mortgage interest rates are still historically low, Kristen Bonner, the study's lead researcher, says in a web report. The average U.S. 30-year fixed mortgage rate is 3.56%, according to another site, Bankrate.com.
A key roadblock to buying a home is the inability of many would-be buyers to afford the down payment, which is typically 20% of the purchase price.
IBD'S TAKE: An IBD report explains that 39% of renters, especially younger ones, can't afford to purchase a home because they are struggling with debt.
If the size of a down payment is a stumbling block for you, you may be able to reduce the size of the down payment. Just remember, with a down payment of less than 5% of purchase price, you've typically got to take on mortgage insurance, which boosts the size of your monthly mortgage payments.
Mortgage insurance protects the lender, not you, in case you default.
In 2015, the median down payment was 10% for buyers of single-family homes and condominiums, according to the National Association of Realtors. The median price of those homes was $220,000. So the media down payment was $22,000.
As of June, the median sales price of single-family homes and condos was $231,000, according to RealtyTrac. A 20% down payment would be $46,200.
Your mortgage interest rate is another key factor is determining the size of your monthly mortgage payment. To get the lowest available rate in your area, you typically need a credit score higher than 660 to 700, according to valuepenquin.com. The standard version of the widely used FICO score peaks at 850, although scores above 800 are rare, Bankrate.com says.
IBD'S TAKE: For practical tips about how to boost your credit score, read this IBD report.
So, where is it cheaper to own than to rent? Here are the 10 states with the biggest monthly savings from owning rather than renting:
New York: $1,635 cheaper to own than rent.
Massachusetts: $559.
Illinois: $522.
New Jersey: $472.
Pennsylvania: $461.
Florida: $398.
Maine: $396.
Ohio: $375.
Alaska: $334.
Rhode Island: $334.
That gap for New York is based on the fact that the monthly rent of a single-family home in the Empire State is $3,295, which is almost double the $1,660 cost of owning.
And where is it more economical to rent than buy? Here are locales with the largest monthly dollar amounts in savings for renters over owners:
Hawaii: $515.
Montana: $248.
Utah: $242.
Idaho: $204.
C.: $144.
Colorado: $137.
Wyoming: $99.
Delaware: $75.
Oregon: $12.
The GOBankingRates.com data assume that owners make a 20% down payment, based on the median list price, and take a 30-year fixed-rate home loan. It includes property taxes and insurance."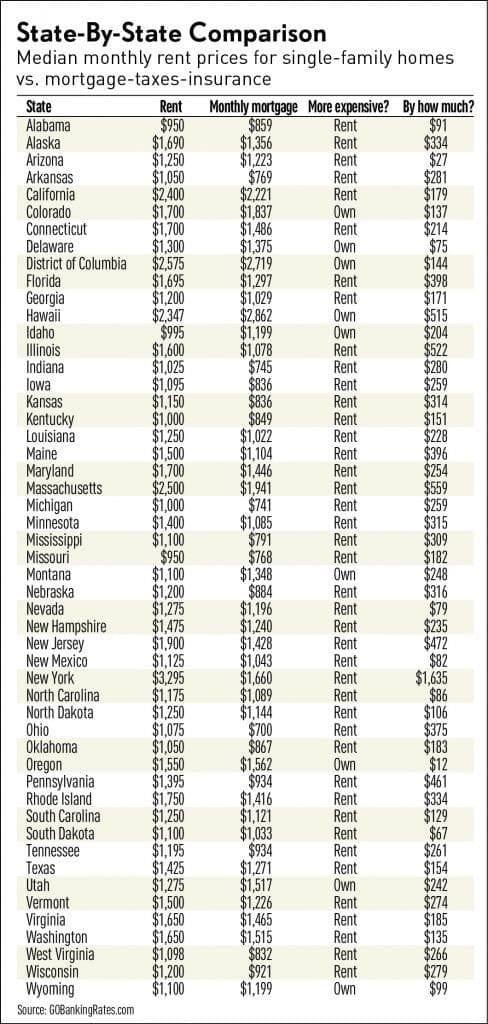 It's cheaper to own than rent a home in 42 states. Renting is a cheaper in eight states plus D.C.
Source: Surprise! Paying A Mortgage Is Cheaper Than Renting In 42 States | Stock News & Stock Market Analysis – IBD